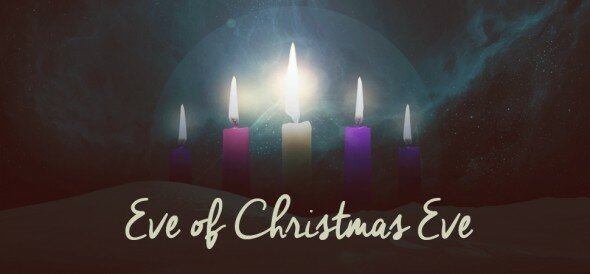 Come celebrate Christmas at our "Eve of Christmas Eve" service, 6:30 and 8 p.m. Dec. 23. Invite your friends for a relevant Biblical message and Christmas music. Childcare will be available for birth to preschool. Please bring a plate of cookies if you are able.
END OF YEAR GIVING
If you are planning to make an end-of-year gift to The Sanctuary, please remember that Dec. 27 is our last service of the calendar year. You can check your giving to date through our member web site. Go to thesanctuarychurch.ccbchurch.com and click on your profile and then the "financial" tab. Contact Stephani at with questions.
GROWTH GROUPS
Do your New Year's resolutions include getting to know people at church better, exploring God's Word, or growing deeper in your relationship with God? Then your next step might be to get involved in a Growth Group. If you are interested in getting started, we invite you to sign up the weeks of Jan. 10 or 17. Visit the Info Table or contact Mike and Kara Haas: .
SURGE
Surge is a monthly gathering of our entire church body the second Wednesday of the month. Bring your whole family for a time of worship and spiritual growth. The evening also will include break-out sessions. Childcare is provided. The next Surge is 7 p.m. Jan. 13.
CONNECT BY TEXT
Do you want to stay in the loop with what's happening at The Sanctuary? We would like to text you with reminders of important events or last minute changes due to weather. To join, text the word "connect" to this number: 630 318-3400. If you are visiting for the first time, please text the word "hello" to the same number. We will follow up with information about our church that is specifically for first-time guests.
MEN'S MINISTRY
Men of The Sanctuary are invited to come together for community and Bible study every other Saturday at 7:30 to 8:45 a.m. The next Fight Club date is Saturday. For more info, contact Bryan Buckley: .
JUNIOR AND SENIOR HIGH
Thrive and Crossfire, our junior high and high school ministries, meet from 7 to 8:30 p.m. Mondays for student-led worship, large group teaching, small group discussion and tons of FUN! Feel free to arrive at 6:30 for hangout time.
Check your email for more information on the Lock-In and Christmas Party, Dec. 28-29.
Start the new year by partnering with Thrive and Crossfire at Vision Night, 7 to 8:30 p.m. Jan. 4. The evening will include worship, student testimonies and vision for the winter/spring semester. All church attenders are welcome to attend!
Have you ever questioned your salvation or wondered what the Holy Spirit's role is in your life? Do you have a desire to grow your relationship with Christ but aren't sure how? This four-week Foundations class is for you! Starting Jan. 24 during first service, these questions and more will be answered. All junior and senior high students are welcome to attend.
YOUNG ADULTS
Ignite, our college and young adult group, meets Sunday nights from 7 to 9 p.m. at the home of Danielle Sault, 941 Canyon Run Road, Naperville. For more info, contact Steven Cruz at 630.687.4045 or check out The Sanctuary Ignite page on Facebook.
"Ignite the Halls," Ignite's Christmas party, is Saturday at the home of Danielle Sault. High school seniors are invited to join the festivities! Bring a batch of cookies to exchange, a white elephant gift, and make sure you wear your ugliest Christmas sweater! Bring your friends for this exciting evening from 6 to 9 p.m.
Social Share