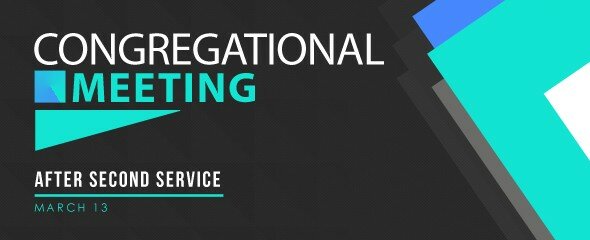 Please plan on staying after second service on Sunday for an important Congregational Meeting! Members will be voting on whether to hire John Jou as our full-time associate pastor. If approved, Pastor John will continue as a resident pastor through August and then join our staff in a full-time paid position. All are welcome to attend the meeting, but only members can vote.
BAPTISM
If you have accepted Jesus Christ as your personal Savior and you would like to be baptized, plan to participate in one of our regular morning worship services at 9:30 and 11 a.m. March 20. A baptism class will be offered during second service Sunday in the Green Room. Please e-mail Emily Neal if you plan to participate in the class: .
HOP2IT
Invite your friends and family to our exciting Easter event, Hop2It! Kids won't want to miss our unique glow-in-the-dark egg hunt, prize room, bounce house, food, crafts, face painting, story time and card tricks by "Don't Blink"! We'll have a corn hole tournament for older kids and adults. Bounce on over to this FREE event 9 a.m. to Noon March 19. Candy donations are being accepted at the Info Table!
FAMILY REKINDLE
Families of junior high and high school students are invited to come together to pray, celebrate and enjoy an evening honoring and blessing one another at Family ReKindle 7 to 8:30 p.m. March 21. It can be a challenge as families to find time in our jam-packed schedules to make meaningful connections. We hope Thrive and Crossfire families will find that space during Family ReKindle as we search the scriptures on why God made families.
GOOD FRIDAY AND RESURRECTION SUNDAY
Make plans to join us as we celebrate our awesome Savior on Good Friday and Resurrection Sunday. Our Good Friday service is 7 p.m. March 25. Mark your calendar for this Tenebrae service as we reflect on Jesus' sacrifice to give us life. Childcare will be provided for birth to kindergarten. We will celebrate His resurrection at 9:30 and 11 a.m. March 27 as we kick off a new sermon series, "ALIVE"! Don't miss this powerful worship service!
FIGHT CLUB
Imagine how different your outlook on life would be if you had absolute confidence God was with you. Imagine how different you would respond to difficulties, temptations and even good things if you knew God was in all of it and was planning it to leverage it for good. This six week study challenges us to grow BIG Faith. Fight Club meets every other Saturday at 7:30 to 8:45 a.m. The next Fight Club is March 19.
CLEANING CREW
Wondering how our building looks so good week after week? We have a dedicated crew of volunteers that prepares our building for worship. The team is looking to grow its volunteer base. If serving in this way interests you, whether it's once a week or once a month, sign up at the Info Table or contact Stephani Suwanski at .
SURGE
Don't miss Surge, our monthly midweek gathering at 7 p.m. April 13. Our church will come together at one service for an extended time of worship and in-depth teaching. Childcare is provided for birth to fifth grade.
CONNECT BY TEXT
Do you want to stay in the loop with what's happening at The Sanctuary? We would like to text you with reminders of important events or last minute changes due to weather. To join, text the word "connect" to this number: 630 318-3400. If you are visiting for the first time, please text the word "hello" to the same number. We will follow up with information about our church that is specifically for first-time guests.
JUNIOR HIGH AND HIGH SCHOOL
Thrive and Crossfire, our junior high and high school ministries, meet from 7 to 8:30 p.m. Mondays for student-led worship, large group teaching, small group discussion and tons of FUN! Feel free to arrive at 6:30 for hangout time.
YOUNG ADULTS
Ignite, our college and young adult group, meets Sunday nights from 7 to 9 p.m. at the home of Danielle Sault, 941 Canyon Run Road, Naperville. For more info, contact Steven Cruz at 630.687.4045 or check out The Sanctuary Ignite page on Facebook.
Social Share