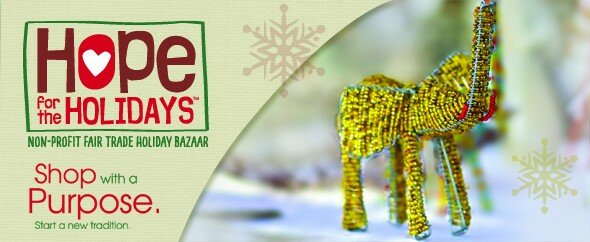 HOPE FOR THE HOLIDAYS
Hope for the Holidays, our annual fair trade holiday bazaar is coming 6 to 9 p.m. Friday and 10 a.m. to 2 p.m. Saturday! Make plans to shop with a purpose when you give a gift that gives twice! Proceeds from the event go to help artisan families living in third world countries. The event will include live music Friday evening and the chance to experience some new food options from food trucks, including Cupcakes for Courage, arriving on Saturday. For more info, visit hopefortheholidays.info.
THE THRILL OF HOPE
This Christmas, share joy by donating Christmas gifts to the Bolingbrook Christian Health Center. Items are needed for ages 1 to 18 and will be collected at the Info Table. Gifts will be distributed on Dec. 6 from 5 to 8 p.m. as we join Gente Unida and New Song Church in hosting a bilingual service, dinner and a gift mart for those in need in our community, as well as a craft and game time for kids. If you, your family or growth group would like to volunteer for this memorable service opportunity, contact Cathy Unger at .
LUNCH WITH THE PASTORS
If you are new to The Sanctuary, make plans to join us for Lunch with the Pastors right after second service on Sunday. This is a great opportunity to learn more about our mission and vision, get to know Pastor Ronn and Pastor John and, of course, enjoy lunch together. Childcare will be provided. Sign up at the Info Table if you plan to attend.
SURGE
Surge is a monthly gathering of our entire church body the second Wednesday of the month. Bring your whole family for a time of worship and spiritual growth. The evening also will include break-out sessions on living in the spiritual disciplines, living in reconciliation and living in financial freedom. Childcare is provided. The next Surge is 7 p.m. Dec. 9.
CHILD DEDICATION
We will have a child dedication during the worship services on Dec. 6. If you are interested in dedicating your child to the Lord, sign up at the Info Table by Sunday. An elder will contact you to set up a meeting to explore the basis for dedicating children to the Lord and provide biblical encouragement to parents for raising your children to know and follow Christ.
WHITE CHRISTMAS LADIES' TEA
Women of The Sanctuary, come and be refreshed and inspired at the "White Christmas" ladies' tea on Dec. 11. The evening will include lots of laughter as ladies compete in a Christmas version of the "Scene It" game, catered food, and a message from guest speaker and author, Wendy Holtz. Feel free to dress up if you'd like to give that special holiday outfit another night out. Invite your friends for a fun evening out from 7 to 9 p.m.
MEN'S MINISTRY
Men of The Sanctuary are invited to a video series and discussion called, "FIGHT", which looks at the life of Samson, every other Saturday at 7:30 to 8:45 a.m. The next Fight Club date is Dec. 5. For more info, contact Bryan Buckley: .
PLAYGROUP
Hey, moms! Would you like to connect with other moms of young children? Would your children like to make some new friends? Join us for play group from 9:30 to 11:30 a.m. every other Thursday. The next playgroup date is Dec. 3 in the Preschool Place room at The Sanctuary.
YOUTH AND YOUNG ADULTS
Thrive and Crossfire, our junior high and high school ministries, will not be meeting on Monday, Nov. 23. Join us again Nov. 30 from 7 to 8:30 p.m. for student-led worship, large group teaching, small group discussion and tons of FUN! Feel free to arrive at 6:30 for hang out time.
Mark your calendars for these upcoming events:
Nov. 21: Turkey Bowl Pre-Game party! Festivities will begin at 4:30 p.m. in the Community Room, including games, food, a movie and passing out hoodies for Turkey Bowl. Please bring hoodie payment ($18 each) on Saturday.
Nov. 22: Last Co-ed flag football practice at Freedom Park, 1600 Park Place, Bolingbrook, from 12:30 to 3 p.m. Pack a lunch!
Nov. 28: Turkey Bowl, 9:30 a.m. to 1:30 p.m. in Bolingbrook.
Ignite, our college and young adult group,meets Sunday nights from 7 to 9 p.m. at the home of Danielle Sault, 941 Canyon Run Road, Naperville. For more info, contact Steven Cruz at 630.687.4045 or check out The Sanctuary Ignite page on Facebook.
Add Dec. 19 to your holiday calendar as Ignite celebrates "Ignite the Halls" at the home of Danielle Sault. High school seniors are invited to join the festivities! Bring a batch of cookies to exchange, a white elephant gift, and make sure you wear your ugliest Christmas sweater! Bring your friends for this exciting evening from 6 to 9 p.m.
Social Share