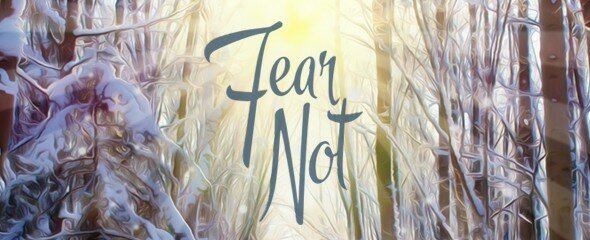 For Mary, it was a fear of the unknown. For Joseph, it was fear of trusting her. For the shepherds, it was fear of danger. And for Zechariah? A fear of the future. We face those same fears today. But in each case, God gave this assurance: Fear Not! Join us in December, as we unpack Biblical truths that apply not only 2,000 years ago, but to our lives today. Pick up a stack of invitations at the Info Table to invite your friends to this powerful sermon series, "Fear Not".
BENEVOLENCE OFFERING
We will be taking a benevolence offering at the end of service Sunday. This is a special offering that goes directly to help those in our church body who have a financial need. Please look for the ushers as you leave the auditorium.
EVE OF EVE SERVICE
Come celebrate Christmas at our "Eve of Christmas Eve" service, 6:30 and 8 p.m. Dec. 23. Invite your friends for a relevant Biblical message and Christmas music. Childcare will be available for birth to preschool. Please bring a plate of cookies if you are able.
SURGE
Surge is a monthly gathering of our entire church body the second Wednesday of the month. Bring your whole family for a time of worship and spiritual growth. The evening also will include break-out sessions on living in the spiritual disciplines, living in reconciliation and living in financial freedom. Childcare is provided. The next Surge is 7 p.m. Dec. 9.
WHITE CHRISTMAS LADIES' TEA
Women of The Sanctuary, come and be refreshed and inspired at the "White Christmas" ladies' tea on Dec. 11. The evening will include lots of laughter as ladies compete in a Christmas version of the "Scene It" game, catered food, and a message from guest speaker and author, Wendy Holtz. Feel free to dress up if you'd like to give that special holiday outfit another night out. Invite your friends for a fun evening out from 7 to 9 p.m. RSVP at
MEN'S MINISTRY
Men of The Sanctuary are invited to a video series and discussion called, "FIGHT", which looks at the life of Samson, every other Saturday at 7:30 to 8:45 a.m. The next Fight Club date is Saturday. For more info, contact Bryan Buckley: .
CONNECT BY TEXT
Do you want to stay in the loop with what's happening at The Sanctuary? We would like to text you with reminders of important events or last minute changes due to weather. To join, text the word "connect" to this number: 630 318-3400.
KREW EVENT
Krew kids (4th and 5 grade) and their families are invited to spread some Christmas cheer by volunteering at Feed My Starving Children at 7:45 p.m. Dec. 18. Anyone who is 5 years old and above may participate.  Meet at FMSC, 555 Exchange Ct, Aurora. RSVP on our member website to participate.
JUNIOR AND SENIOR HIGH
Thrive and Crossfire, our junior high and high school ministries, meet from 7 to 8:30 p.m. Mondays for student-led worship, large group teaching, small group discussion and tons of FUN! Feel free to arrive at 6:30 for hangout time.
UPCOMING EVENTS:
Youth Ministry Lock-In and Christmas Party: Dec. 28-29
Vision Night: Jan. 4, 7 to 8:30 p.m.
YOUNG ADULTS
Ignite, our college and young adult group, meets Sunday nights from 7 to 9 p.m. at the home of Danielle Sault, 941 Canyon Run Road, Naperville. For more info, contact Steven Cruz at 630.687.4045 or check out The Sanctuary Ignite page on Facebook.
Add Dec. 19 to your holiday calendar as Ignite celebrates "Ignite the Halls" at the home of Danielle Sault. High school seniors are invited to join the festivities! Bring a batch of cookies to exchange, a white elephant gift, and make sure you wear your ugliest Christmas sweater! Bring your friends for this exciting evening from 6 to 9 p.m.
Social Share